Yokohama Tire Opening New 430,000sf Distribution Center in Wilmer
May 22, 2021
Yokohama Headquarters
Duke Realty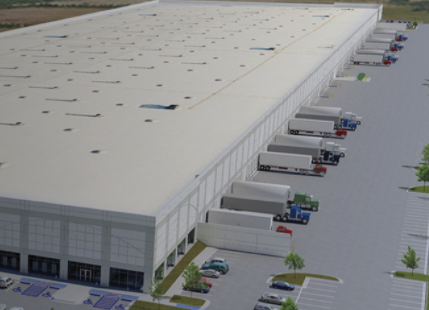 Yokohama Tire Corporation announced it will be opening a new 430,000 square-foot distribution center in Wilmer, Texas, about 15 miles southeast of Dallas. The state-of-the-art, full-service facility is expected to open in summer. It will first be used to distribute Yokohama's OE tires, followed by passenger car/light truck and commercial truck/bus products in 2022.
The LEED Certified® facility sits on a 22-acre site at Sunridge Boulevard adjacent to the Union Pacific Railroad Dallas Intermodal Terminal with access to I-45, I-20/635, I-35, and I-30. The facility includes 7,000 square feet of office and breakroom space, 85 dock doors, parking for up to 281 cars, and trailer storage capacity of up to 114 spaces.
Yokohama has three other distribution centers in the U.S.: Chino, California, Groveport, Ohio, and Auburn, Georgia.
"Yokohama is customer-focused, so we are always looking for ways to minimize the amount of time from when an order is placed to when we can deliver it to a dealer," said Rick Alonzo, Yokohama Tire's vice president of supply chain & logistics. "One of our biggest goals is to elevate our customer service and the new location in Texas will accomplish that. "We'll have better control of having the right products in the right place at the right time, which is a huge benefit for dealers."
Alonzo added that Wilmer is an ideal location for the new warehouse. "Strategically, southeast Texas – the Dallas/Ft. Worth area – aligns perfectly for expanding our distribution network and allowing quicker delivery to more dealers."
"We are excited about the partnership with Yokohama Tire and are committed to delivery on the expected timeline for development of this site," said Wilmer Mayor Sheila Petta. "Yokohama is a globally recognized brand that will further strengthen the business-friendly environment in this region. Our city is one of the fastest-growing within Southern Dallas County and continuing to explode with growth. Labor base, location, and regional proximity are our strong points."
Yokohama worked with Los Angeles, California-based commercial real estate and service and investment firm CBRE (Coldwell Banker Richard Ellis) to secure the land. The developer of the distribution center is Duke Realty, based in Indianapolis, Indiana.
"Duke Realty continues to invest in developing modern, conveniently located facilities that meet the needs of our clients like Yokohama Tire Corporation," said Jeff Thornton, senior vice president, Texas region for Duke Realty. "Our vertically integrated development model was a great benefit to Yokohama given their expedited delivery timeline. We are proud to be a part of the solution to expand their distribution network and bring additional jobs to the Dallas/Fort Worth metropolitan area."
About Yokohama Tire Corporation
Yokohama Tire Corporation is the North American manufacturing and marketing arm of Tokyo, Japan-based The Yokohama Rubber Co., Ltd., a global manufacturing and sales company of premium tires since 1917. Servicing an extensive sales network throughout the U.S., Yokohama Tire Corporation is a leader in technology and innovation. The company's complete product line includes tires for high-performance, light truck, passenger car, commercial truck and bus, and off-the-road mining and construction applications. For more information on Yokohama's broad product line, visit www.yokohamatire.com and www.yokohamatruck.com.